Our Team
DR. SHIVAM SHARMA
Advisor: Research & Development
Doctorate in Bio Technology (Plant Bio technology) from Hebrew University, Israel. His R&D skills are a great input in finalising the ingredients for Scossa. Majorly making our shakes for diabetics by using herbal ingredients.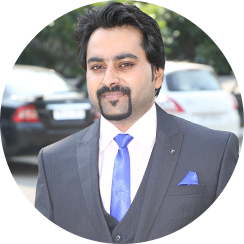 MR. RAVIKANT GARG
Consultant: Taxation & Finance
Vast experience in formation & incorporation of companies, partnerships, trust, other entities, conversion of partnership into companies, private companies into public companies. He always strives to deliver an excellent service by applying his financial skills to provide best practical financial information.
MR. AJAY SHARMA
Advisor: Interior Design & Architecture
With over 8 years of professional experience in interior design and development in both commercial & residential sectors, his flair for design and detail is highly instrumental in developing interiors for Scossa outlets.
Dr. BALWINDER AGGARWAL – Jyotish Maharishi
CONSULTANT: VASTU
He carries an experience of 26 years in the field, is a recipient of several national and international awards, author of books on "Panch Maha Yagya" and serves as a personal astrologer to various Indian and International VVIPs.